70
Feb 2, 2016 14:48:50 GMT -5
Post by Deleted on Feb 2, 2016 14:48:50 GMT -5
BBC Radio 3 is to celebrate its 70th anniversary this September by commissioning 70 new works. Due to unprecedented demand from around the world, everyone reading '
The Third
' is cordially invited to compose something for Radio 3. In addition, drawing on Radio 3's reputation as the most significant commissioner of new classical works, and following the New Year New Music focus, Contemporary Composer In 3 is an opportunity for a composer to become embedded in Radio 3 and to compose regular works for frequent broadcast during the period of the Third Programme anniversary. A key role will be to make contemporary classical music part of everyday listening and to explain and demystify new music and the process of composition. Why not apply to be the embedded composer yourself?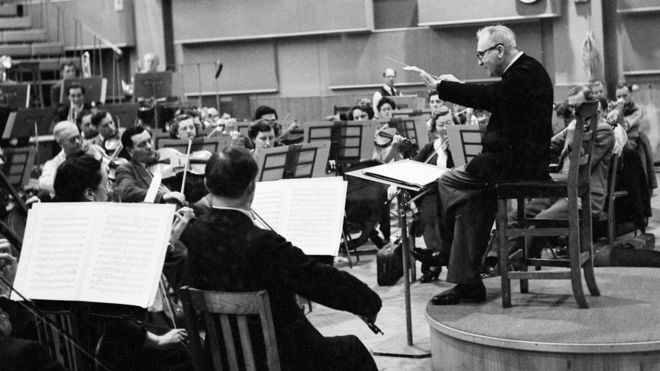 BBC News - BBC Radio 3 commissions 70 works for 70th anniversary
If I may quote the Controller of BBC Radio 3, Alan Davey, directly:
"BBC Radio 3 is the direct ancestor of a remarkable cultural phenomenon - the Third Programme which began broadcasting on 29 September 1946. That ancestry echoes an unbroken line of ambition: to champion great works of music and culture, innovating in radio, supporting new talent, and connecting audiences all over the country with the joys of distinctive music and culture experiences. In September, we are going use our birthday to draw on the strength of our past and forge a new way forward, drawing from the spirit of the Third Programme in a contemporary way – to ensure our audiences can connect with remarkable music and culture. We'll be commissioning 70 experiments in music and culture to mark our birthday, continuing our role as one of the most significant commissioners of new musical works and our role as a commissioner of some of the most talented playwrights in the world."
BBC - Media Centre - Radio 3 reveals more details of its celebration of the 70th anniversary of the Third Programme
I should perhaps clarify that I shall not be composing any music at all, although I am tempted by a Third play!