Post by Deleted on Feb 3, 2014 12:18:07 GMT -5
Good afternoon to you all! Due to unprecedented demand from around the world, everyone reading '
The Third
' is cordially invited to BFI Southbank promptly at 18:10 (GMT) this evening, Monday 3 February 2014. The screening will be introduced by Philip Kemp, and afterwards, the restaurant offers contemporary dining from a range of British-influenced seasonal dishes and specials. Whilst you're there, sample the bar with Philip or pop into the intimate Drawing Room, a small cocktail bar behind a secret doorway in the lounge.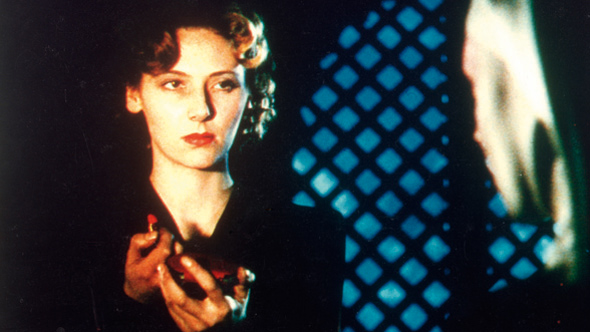 "A group of nuns in an isolated mission in the foothills of the Himalayas (created in Pinewood and a subtropical garden in Horsham) grapple with the erotic past of their makeshift convent and the exotic present. Deborah Kerr's Sister Clodagh endures a spiritual crisis, while Kathleen Byron's Sister Ruth is maddened by desire for David Farrar's British agent. Described by Powell as 'the most erotic film that I have ever made', 'Black Narcissus' is a delirious masterpiece that pits spiritual pride against sexual obsession."
BFI - Black Narcissus
Such is the human condition? As for '
The Bridge II
', writing in today's 'Times', Andrew Billen reports that there were moments when this '
Bridge
' wobbled for Saga and Martin, but it was as exhilaratingly bleak as the photography. The second series of the Danish-Swedish thriller '
The Bridge
' began with terrorists in animal masks. It ended with its cast behaving like animals. I am, I warn, full of spoilers here, but
The Bridge
's author, Hans Rosenfeldt, for all his gift for finding laughter in the dark, revealed again on Saturday a bestial vision of human motivation.
'In series one, the terrorist's apparent aim, to illuminate social inequality, turned out to be a cover for personal revenge. In this season, the eco-terrorism assumed, in the subtitle's quaint translation, to be "pathos-driven", was actually motivated by financial greed laced with incestuous sexual obsession ... '

The Bridge II
Saturday, BBC Four (television)
*****
The Times - TV review: The Bridge II
After a composite sketch of the perpetrator is made and Saga and Martin learn who it is, they must get to him in time. When they think the case is solved, it turns out there is one more final piece left. Their leads point to Kastrup Airport, but once they realise what it all means it may be too late. Can Martin repair his marriage? Saga's and Martin's friendship is put to the test. Saga and Martin realise the case isn't over and that there is one more perpetrator. But who is Mikkel Host? It's a race against the clock to prevent a disaster in which many lives are at stake. Martin makes a crucial decision, and in the end Saga faces an extremely difficult choice that will change everything. Curiously, I first drove to Scandinavia at the end of the last millennium (September 1999), partly because I heard that they were building a bridge to connect Denmark with Sweden. When we got to the bridge, they were still building it, so we took a ferry instead. Of course, television is a different medium from cinema, and what works on the small screen often fails on the big screen, and vice-versa. Anyway, if you cannot make '
Black Narcissus
' tonight, here is '
The Bridge
' online.
BBC Four (television) - The Bridge