Post by Deleted on Dec 6, 2013 3:39:44 GMT -5
Good morning to you all! The world's newspapers all lead today with some editorial comment on the death of Nelson Mandela. '
The Times
' calls him a man of
true valour
.
"Towards noon on April 20, 1964, after four and a half hours on his feet, Nelson Mandela was nearing the end of his opening statement at his trial in South Africa's Supreme Court in Pretoria. He faced charges of sabotage that were equivalent in law to treason. His lawyer had also been his typist for the 81-page speech and had implored him to leave out its last line, saying it would be an invitation to the court to impose the death penalty. Mandela made him type it anyway, and now, after describing his ideal of 'a free society in which all persons live together in harmony and with equal opportunities', he read it out. 'If needs be,' he said, 'it is an ideal for which I am prepared to die.'

There followed a minute's stunned silence, a sentence of life in prison and leadership of the greatest emancipation movement of the modern age ... "
'
The Times
' thunders that in Nelson Mandela a people and a continent found inspirational leadership, but he also earned a transcendent global stature. He was the moral conscience of his age. I should perhaps report that I once met Nelson Mandela. It was a bright summer's day in St James's Park, London, and President Mandela took an impromptu walk about with Princess Anne. There was virtually no security. I happened to be taking a lunchtime walk around one of London's central parks!
I held out my hand and said, "Welcome to London! What beautiful weather!"
Princess Anne and Nelson Mandela both smiled at one another, and the South African President shook my hand strongly.
"It is good to be here!"
So it is, Sydney. Last year, I went to the British Museum to see an exhibition about William Shakespeare. Anyone seen Shakespeare? Shakespeare the quiet countryman; Shakespeare the hellraiser in London bear gardens. Shakespeare the local boy; Shakespeare the global commentator. Who knows?
British Museum - Exhibition - Shakespeare: staging the world
One of the principal items on display, "Exhibit A", illustrating the contemporary dramatist Ben Jonson's line that Shakespeare was "not of an age, but for all time", was a book known as "the Robben Island Bible".
BBC - Shakespeare's Restless World - Shakespeare Goes Global
Robben Island was the Alcatraz on the South Atlantic, where Nelson Mandela and other South African political prisoners spent many years of their lives; the "Bible" was a collection of the complete works of William Shakespeare smuggled into the jail in the 1970s by a prisoner called Sonny Venkatrathnam.
They called it the Bible because Venkatrathnam cheated the prison censorship system by telling his warders that it was a Hindu religious work. But there was another reason, too. As the book circulated, Shakespeare's poems and plays acquired the condition of secular scripture, interpreted by one and all much as believers might the Koran, the Christian Bible or Karl Marx.
" ... As Dora Thornton, the curator of the British Museum exhibition put it, "They used him as a way of developing their own moral sense." With Shakespeare having anticipated and explored the competing questions of leadership and self-doubt, idealism and expediency, ambition and loyalty that bedevil politicians everywhere and always, but all the more urgently at times of national conflict, Mandela and his comrades drew from his works to shape political debate and lay the philosophical foundations for political action."
FT - To kill, or not to kill?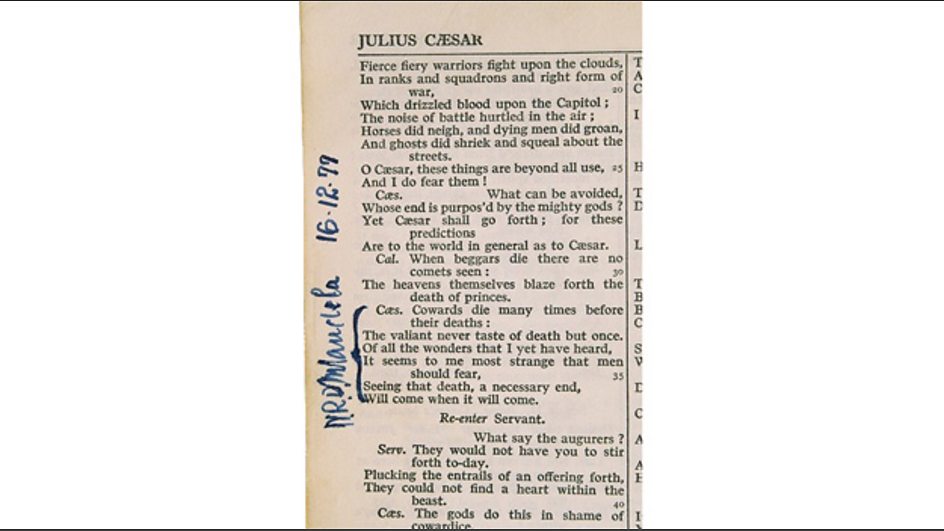 Cowards die many times before their deaths: the valiant never taste of death but once.