Post by Deleted on Nov 6, 2013 1:36:05 GMT -5
Enter the world of Norman Swann, elderly architect and proprietor of an elaborate apartment in South Kensington. As Norman struggles to deal with the burden of his cultural heritage, the arrival of his unscrupulous former student, now a famous architect to the stars, threatens to destabilise his fragile existence. This ambitious site-specific installation functions as a stage set for an unrealised drama, presenting a highly-choreographed environment of a grand domestic setting. Scandinavian artist duo Michael Elmgreen and Ingar Dragset transform the V&A's former Textiles galleries to redefine the way in which art is presented and experienced.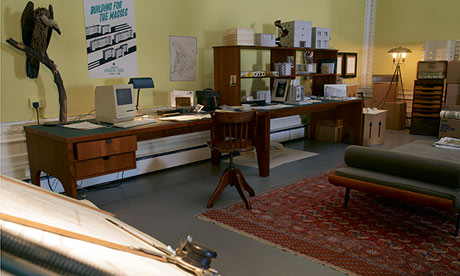 The Guardian - Elmgreen and Dragset bring Through the Keyhole back to life as art
Who lives in a house like this? The artist duo's creepy new show at the V&A is a whole apartment of indeterminate history – whose occupant is eternally stuck in the shower. Explore the relationship between sculpture, architecture and design as objects from the Museum's collection are presented alongside artworks, furniture and every day items to create unexpected encounters. Due to unprecedented demand from around the world, everyone reading '
The Third
' is cordially invited to the Victoria and Albert Museum this coming Christmas. If you cannot make it in person, here is tomorrow today!
V&A - Tomorrow: Elmgreen & Dragset
Writing in '
The Daily Telegraph
', Louisa Buck reports that eyebrows have been raised at the giant hoarding outside the main entrance to the Victoria & Albert Museum in South Kensington which offers a "New Residential Development at a Prime Heritage Location" and apparently genuine offers have been flooding in for what is advertised as a generously-proportioned "Unique Refurbished Property" of 6,000 square feet. However, this conspicuous advertising is not the V&A taking the ultimate fundraising plunge but part of the latest site-specific installation by mischievous Scandinavian artists Michael Elmgreen & Ingmar Dragset. Louisa concludes thus:
" ... Elmgreen & Dragset are keen to stress the "strong political comment" of this multifaceted and tragi-comic rumination on the mores of English society, the flaws of Modernist utopianism, changing community values, gay sexuality and London's crazy property market which they describe as "a hysterical boom in real estate prices…which is doing so much harm." However it seems that the artist's satire has been somewhat lost on a stubborn group of high-end art lovers who simply refuse to believe that they cannot buy the apartment outright. "When we say no, they just keep offering more and more ridiculous amounts of money," Michael Elmgreen recently revealed. And their response to those who are obdurately blind to the content of their piece? "We are thinking of accepting the highest offer, and then just sending them the billboard."
[/b]
The Daily Telegraph - Tomorrow - Elmgreen & Dragset - Convincing and somewhat disconcerting exhibition at the V&A by mischievous artists Michael Elmgreen & Ingmar Dragset