Post by Deleted on Oct 20, 2013 4:01:38 GMT -5
Good morning to you all! To all those who survived the night, what a night it turned out to be! Congratulations to all! As a country nears bankruptcy, a little like the United Kingdom, the United States of America and much of the rest of the Western world, a wealthy widow's fortune and an arranged marriage appear to be the solution to all their problems. Plan c, Sydney?
Opera Danube - The Merry Widow
The Merry Widow is the quintessential operetta, filled with romantic ballads, lavish waltzes, raucous cancans and lusty gypsy stylings. Packed with wonderful melodies, including the "Merry Widow Waltz", "Villa" and "Women, Women ", the piece delights today just as it did in Vienna at its premiere in 1905. I commend the Merry Widow to everyone reading '
The Third
' this weekend!
St John's Smith Square - The Merry Widow - by Franz Lehar
Smith Square is an interesting place in which to live and work and play, Sydney, and even to pray on Sunday! Pertinently, '
The Observer
' leads this week with some editorial comment that London can't become home only to the rich: unless property prices are made affordable, London will lose the people who give it its soul. In his magisterial account of 19th-century London, then as now a city of contradictions, Jerry White describes how Clerkenwell became "the greenhouse of invention". Hiram Maxim perfected his machine gun there; Sebastian de Ferranti his dynamos and Guglielmo Marconi his electric telegraph. Clerkenwell's people were cabinet makers, brass workers and glass shade and globe makers. Elsewhere in the city, new industries flourished, as did the docks and retail. Ladies shopped in "the emporium of the world!". "Made in London" was a badge of pride. Today, the fattest profits come not from the fruits of questing minds and hard graft but from the new gold, what American writer Michael Goldfarb, in a scathing essay in today's Observer, calls "the global reserve currency" that is property.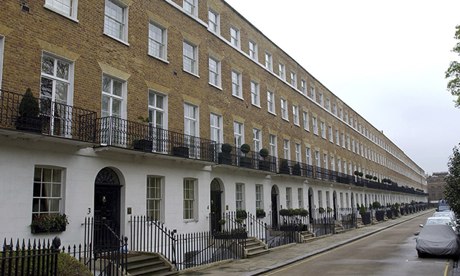 "The property market is no longer about people making long-term investment in owning their shelter," he writes, "but a place for the world's richest people to park their money at an annualised rate of return of around 10%." In 2012, an extraordinary £83 bn-worth of properties were purchased mortgage-free in London with no financing. What attracts foreign (and domestic) millionaires and billionaires is not just the rate of return but the coalition's tax regime. Britain, for instance, has a base corporate tax rate of 23% (due to drop to 20% in 2015). In Germany, it is 29%. Again, while the majority of London's citizens rightly pay up to 40% or more of their incomes to maintain the hospitals, schools, roads and civic services of the city, the rich are taxed in small change.
The impact of London's property market becoming another global reserve currency where the super rich stash their billions and evade tax will soon be felt in the changing nature of the city's social and cultural ecology. What price to the capital if, increasingly, teachers, artists, students and civil servants can no longer live, work and contribute to an eclectic social mix? The threat is not just cultural, but economic too. Already some senior business leaders have voiced fears that the capital is likely to lose out to cities such as Berlin in the race to become Europe's major digital hub since London is simply unaffordable for many young enterprising tech workers. Historically, the cultural industries have been major players in the British economy, but they also play a crucial role in helping create a flourishing, diverse city. '
The Observer
' observes thus:
' ... Even voices on the right are now saying that the hollowing out of London has to stop. What would make a difference is a mansion tax, levied on properties worth more than £2m, a policy already adopted by Labour; an overhaul of council tax; a tax on those who own properties in the city but say they reside elsewhere and for wealth-dazzled Boris to make clear, as Martin Vander Weyer suggests in the Observer, that the rich are welcome but only if they are "ready to be a real citizen of London". The capital may be the economic, cultural and financial centre of the UK but a solution also has to be found to the drag it has on the underperformance of much of the rest of Britain.

The thinktank IPPR North recently launched the Adonis Growth Review. Lord Adonis is examining the infrastructure, skills, transport and employment patterns of Britain. Ed Cox, the astute director of IPPR North, says Adonis's mission does not have an anti-London bias but a rebalance has to have a high priority. Currently, for instance, it consistently receives twice the amount of government spending per capita than any other region excluding Scotland. Cox argues that there is international evidence that the fastest growth comes from medium-sized cities, not large conurbations. A new economic understanding in areas such as Manchester and Newcastle values supporting not one sector such as finance, but interlinked hubs of connected industries, offering a range of skills and pooling budgets. As last year's Northern Economic Futures Commission argued, Whitehall must decentralise transport, innovation, skills, welfare, housing and, crucially, fiscal powers and incentives. Michael Goldfarb's dissection of the capital's ongoing hijacking by the rich concludes thus: "How this story will end doesn't bear thinking about." But think about it we must.'
[/b]
Over the course of my lifetime, the City of London has become Wimbledonised, in the sense that it is run and staffed largely by foreign superstars, and much the same may be said for most of the superprime property hotspots across Westminster, Kensington, Chelsea and beyond! Am I the only Londoner left, Sydney, and must I too become a foreigner in my hometown? '
The Observer
' also leads this morning with some editorial comment on
The National Theatre: A standing ovation for a great British institution on its 50th. Today, British life seems unthinkable without it and our actors are the envy of the world.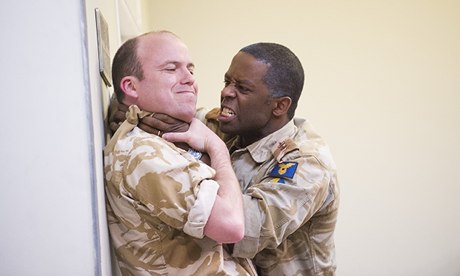 National Theatre - 50 Blog
The National Theatre, whose 50th birthday we celebrate today, is one of those classic British institutions, a kind of public oxymoron that defies gravity and logic. The state has never been hospitable to plays or players. Even in Shakespeare's day, actors were classed with vagabonds and prostitutes and liable to persecution. But then – another paradox – during the reign of the first Elizabeth, the stage became the crucible of national artistry. By the time the First Folio was printed, this rapprochement between state and stage had broken down. Playwrights and actors had to find other ways to conjure their art. I propose some toast: to the National Theatre, the wider arts and all of you! Three cheers from kleines c and the gang (Sunday morning breakfast coffee)!