Post by Deleted on Jul 19, 2013 21:02:39 GMT -5
Good morning to you all! To all who survived the night, what a night it is turning out to be! Writing in '
FT Weekend
', Lucy Kellaway considers
what's new, what's not and what's never coming back
. When Lucy started working in an office in the early 1980s, she smoked cigarettes at her desk, banged out articles on heavy typewriters and at lunchtime decamped to the office canteen or the pub for a hotplate of shepherd's pie. Everything she has written since then about modern offices – the wireless, smokeless, noiseless places where we now work – has been coloured by her memory of how things used to be.
But now she finds her sense of history is all skewed. Lucy has just finished making a series for BBC Radio 4 about the past 250 years of office life, and has discovered half the things she thought of as new fads turn out not to be new at all; while many things she took to be eternal facts of office life are actually rather recent. There are, however, some constants – like lust and boredom – as well as some things that have gone for ever. The tea lady isn't coming back. Lucy concludes thus:
Six things that are eternal

1. Lust

This long predates the invention of the lady clerk. As Pepys writes in his diary on June 30 1662: "Up betimes, and to my office, where I found Griffen's girl making it clean, but, God forgive me! what a mind I had to her, but did not meddle with her."

By the time women arrived in offices a great deal of meddling went on, and often ended very badly indeed. In 1958 Connie Nichols, a secretary at Eli Lilly, had a long affair with her boss but when she found she'd been discarded for a younger model, she seized a gun and shot him.

2. Badmouthing colleagues

To ridicule workmates appears to be a basic need for office workers. Lamb composed a couplet about a particularly dim clerk called Ward: "What Ward knows, God knows; But God knows what Ward knows!" While the need is constant, the execution has changed – witty couplets have been long since replaced by playing mean pranks on social networks.

3. Beauty premium

Being tall, low-voiced and easy on the eye has always been an advantage. Modern chief executives in the US have been found to be 2.5in taller than the average man and countless studies have shown that the good looking do better. A hundred years ago the beauty bias was made explicit: at the Bank of Scotland in the late 19th century, clerks were "removed from view" due to "diminutive stature", having a "voice a little peculiar", or for "their jug ears and red hair".

4. Petty policies

In my working life some of the most unpopular changes have centred on axing minor perks such as free biscuits. At the East India Company in 1817 there was an outcry when the Christmas party – the "yearly turtle feast" – was scrapped. Even worse was a new initiative that had everyone signing in every 15 minutes throughout the day. A policy that makes Marissa Mayer's insistence that Yahoo staff turn up to work look laisser faire.

5. Motivational slogans

At the cool Facebook headquarters in San Francisco the walls are covered in notices saying: "What would you do if you weren't afraid?"

At Larkin Soap building in Buffalo, also pretty cool when it was opened in 1907, Frank Lloyd Wright had this carved into the walls: "Thought, feeling, action." Such slogans didn't prove terribly successful: Larkin Soap went bust.

6. Paper

In 1975, BusinessWeek famously predicated a paperless office but for the next 25 years the volume of paper used in offices went on rising. Even though we are now weaning ourselves off it a little, the average worker still generates 2lb of paper a day. I still predict the paperless office will arrive no sooner than the paperless toilet.

Six things that will never come back

1. Ledgers

The end of the ledger was possibly the best news the office ever had. The system of entering all information chronologically in vast books meant nothing could ever be found again. The invention of the filing cabinet in 1868 – which allowed things to be filed alphabetically – was probably a bigger step towards the knowledge economy than the computer.

2. A graveyard of equipment

Items such as quill pens, blotting paper, typewriters, adding machines, mainframe computers, word processors, and fax machines are all gone or going.

3. Noise

The end of the clanking adding machines, typewriters and raucous Bakelite telephones meant the end of noise. Now there is only the light tapping on keyboards and politely vibrating mobiles. Text has replaced talk. The irony is that against all that distracting silence, what have we started to do? Wear headphones.

4. Tobacco

This was the perfect office drug – a pick-me-up and social lubricant all in one. In Dickens' time it wasn't cigarettes but snuff: "The clerk smiled as he said this, and inhaled the pinch of snuff with a zest which seemed to be compounded of a fondness for snuff and a relish for fees." In offices, a relish for fees has outlasted a fondness for tobacco, which has been stamped out from the office, consumed only by a stubborn minority on the pavement outside.

5. Privacy

Lowly workers have always worked open plan while managers had their own offices – until the 1960s and a German movement called Bürolandschaft took away walls and put in pot plants instead. Since then the onward march of open plan has continued, and even if executives manage to hold on to their offices, the walls are now made of glass. Thus anyone wanting a private meeting is forced out of the goldfish bowl and on to the stairwell.

6. The tea lady

In 1666, the wife of the housekeeper at the East India Company started making tea for the directors, and thus the role of the tea lady was born. For the next 300 years she was a cult figure in most organisations with her welcome cry of "Trolley". In 2003, Isa Allan, a tea lady at Scottish Enterprise, was given an MBE by the Queen for being the "heart and soul" of the place. But even the Queen could not halt the onward march of mechanisation, outsourcing and cost-cutting: the tea lady has been replaced by the coffee machine, the water cooler and Pret A Manger – none of which does the job nearly so well.
BBC Radio 4 - Lucy Kellaway's History of Office Life
Even if your office does not contain a boudoir, George Edward Fox was a successful interior designer with a large number of wealthy clients. He worked with the firm of Crace and specialised in lavish versions of historic French styles. He designed this boudoir ceiling for Lady Wimborne.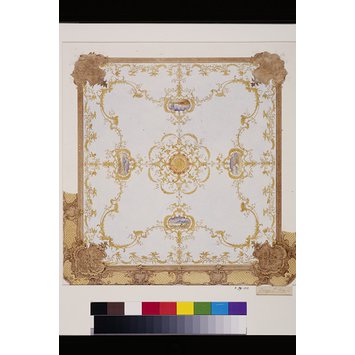 V&A - Design for a boudoir ceiling in the Rococo style
People at the time considered that the prettiness of the revived Rococo style was particularly suitable for the private rooms of a fashionable woman. They knew of the splendours of house interiors that had belonged to members of the French court in the 18th century. By the 1870s these had reached an almost mythical status. They were much imitated, to the displeasure of design reformers in Britain. Due to unprecedented demand from around the world, everyone reading '
The Third
' is cordially invited for Sunday afternoon tea promptly at 16:00 (BST) tomorrow afternoon, 21 July 2013.
Summer Series at Somerset House
If you cannot make it in person, how about
lunch with the FT: Ron Perelman
? Andrew Edgecliffe-Johnson concludes thus:
" ... After 90 minutes at Marea, business – or his yacht – is pressing and Perelman reaches for his glasses and University of Pennsylvania baseball cap and says goodbye. I notice that two coffee cream puffs sit untouched in the middle of the table, topped with brown sugar and a fleck of gold leaf. I pop one in my mouth as the waiter comes over and asks: "Is the cheque you or Mr Perelman?" I explain that I must pay, and he hands over the bill – $180 before the tip. The maître d' follows, saying anxiously: "I'm going to get in trouble with Mr Perelman for letting you get the meal." My guest is always a light eater, he confirms, lest I get any impression he did not enjoy his meal: "The fish was perfect, I can assure you."
I eat the second cream puff. Maybe it will make amends for the wasted sole."
Andrew Edgecliffe-Johnson is the FT's media editor
-------------------------------------------
Marea

240 Central Park South, New York

Iced Tea x2 $9.00

Prix Fixe x2 $90.00

Sole (supplement) $55.00

Macchiato $5.50

Iced cappuccino $6.00

Total (inc tax and service) $210.19
I propose some toast: to Lucy, Ron and all of you! Three cheers from kleines charlie and the gang (whatever you are drinking)!