Post by Deleted on Jul 18, 2013 0:51:11 GMT -5
Greetings from kleines c. '
The Guardian
' leads this morning with some editorial comment
in praise of … Pran Sikand: the Bollywood actor's villains were menacing but also interesting, and sometimes even funny
.
Real-life villains end their lives "unwept, unhonoured, and unsung". With the make-believe villains of screen and stage it is often another story, their deaths provoking an outpouring of regret and even love. Such is the case with Pran Sikand, the most celebrated of Bollywood villains, who died last week at the age of 93. '
The Guardian
' defends thus:
' ... In more than 400 films over 60 years, he played many roles, even romantic leads on occasion, but it was as a villain that he excelled. His villains were not simply dark. They were menacing but also interesting, and sometimes even funny. He turned the Hindi film villain into a human being, an accomplishment recognised in 2000 when he was named "villain of the millennium" in the Stardust awards that garland the best efforts of the Indian film industry. He was such a good bad guy that during his most villainous phase, Indian mothers were said to be reluctant to name their sons Pran. Quite an achievement.'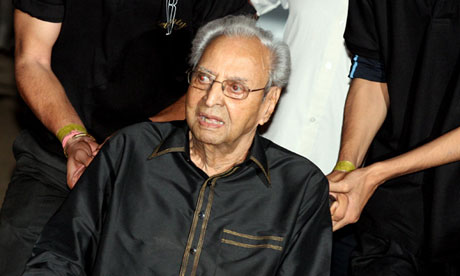 The Indian film industry is a hundred years old this year. Anticipating the centenary of Indian cinema ('
Raja Harishchandra
', the first Hindi film, premiered in May 1913), last year's Twelfth Marrakech International Film Festival celebrated an industry which now produces more than a thousand films a year. A star-studded delegation (including screen legends Amitabh Bachchan and Shah Rukh Khan) provided the glamour, while some canny programming balanced the slick, escapist fare from Bollywood with the more self-reflexive, challenging and often explicit dramas that are an emerging trend in Indian cinema. Writing for '
Sight & Sound magazine
', Ashley Clark concludes thus:
" ... Still, there was little to compete with the sheer spectacle of the programme's Indian focus. To an unaccustomed Westerner, Marrakech's public passion for Hindi cinema, not to mention the rich range of theme and style across the programme, was both instructive and thrilling to behold."
BFI - Bollywood and beyond: Marrakech 2012
I propose some toast: to Bollywood, Hollywood and world cinema! Three cheers from kleines charlie and the gang (Thursday morning breakfast coffee)!