Post by Deleted on Aug 14, 2013 2:42:27 GMT -5
Greetings from kleines c. Due to unprecedented demand from around the world, everyone reading '
The Third
' is cordially invited to the Proms today, and at least for all the children and young people amongst us, how about some choral composition this afternoon?
The Third - Calendar - Wednesday 14 August 2013 - Inspire Day - Choral Composition (13:00)
The Daily Telegraph - Peter Capaldi swears not to swear on Doctor Who
Out of interest, Jason, what do you make of Peter Capaldi?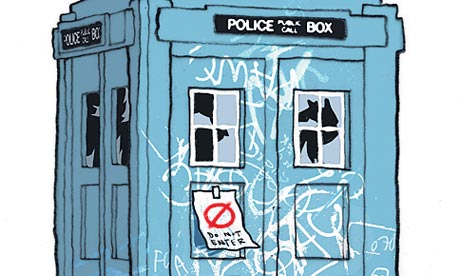 The Observer - It will take more than Peter Capaldi to repair the damage done to Britain: the actor will surely make an excellent Doctor, and the hope that he gives children is more vital now than ever
As for Neil McGowan, friends, countrymen, '
The Third
', lend me your ears; I come to bury Neil, not to praise him. The evil that men do lives after them; the good is oft interred with their bones; so let it be with Neil. The noble Sydney hath told you Neil was ambitious: if it were so, it was a grievous fault, and grievously hath Neil answer'd it.
The St Petersburg Times - Brit Puts Operatic Twist on the Russian Experience
Here, under leave of Sydney and the rest - for Sydney is an honourable man; so are they all, all honourable men - come I to speak in Neil's funeral. He was my friend, faithful and just to me: but Sydney says he was ambitious; and Sydney is an honourable man. He hath brought many captives home to Moscow whose ransoms did the general coffers fill: did this in Neil seem ambitious?
Sparknotes - Shakespeare - Julius Caesar - Act 3, Scene 2, Page 4
PS The BBC Proms have been something of a
tour de force
this summer, and even Jason and his trouble and strife showed up at the Royal Albert Hall at last, if only for '
Siegfried
'! On Wednesday night, we were all at the Proms for '
Inspire Day - Choral Composition
', culminating in a Late Night Prom by the Tallis Scholars. If you were unable to make it in person, here is Prom 43 online:
BBC - Prom 43: Tallis Scholars
Writing in '
The Daily Telegraph
', Ivan Hewett reports that the sound coming from the Tallis Scholars almost surpassed the humanly possible. "Chalk and cheese" is how Peter Phillips described the programme he and his choir the Tallis Scholars presented in Wednesday's late Prom. But was this apt? We know what a real chalk-and-cheese Prom is like. We had one just the other day, when Vaughan Williams and Nishat Khan appeared side-by-side, to their mutual discomfort. Compared with that, this was more like slices of Roquefort interspersed with Cheshire. What we heard were the four movements of the Gloria Tibi Trinitas Mass by the early 16th century English composer John Taverner, alongside three motets in praise of the Virgin by the somewhat later Italian composer Carlo Gesualdo.
The Gesualdo pieces, with their aromatic harmonies and overtly expressive ambience, were the Roquefort. Taverner, with his aloof, white purity of sound, was the Cheshire. But the metaphor won't quite do. In his own way Taverner is every bit as highly flavoured as Gesualdo, but his exoticism is achieved via the different route of an ever-changing weave of voices. The vocal lines burgeon outwards in such long arches you wonder whether they'll ever come to rest ("like a Gothic arch" said Phillips during his chat with presenter Catherine Bott).
As for Gesualdo, there's a rapt intensity which comes from restraint. The unexpected leaps of mode throw open a door onto new expressive territory, but Gesualdo draws back from it.
Conveying intensity through restraint is what the Tallis Scholars have been doing so wonderfully these past 40 years. At this concert, which marked both the 40th anniversary of the choir and the 400th anniversary of Gesualdo's death, they absolutely excelled themselves. The rapt, unbelievably high soaring of the sopranos in Taverner's Mass was uncanny. You could hardly believe it emanated from mortal throats. Ivan concludes thus:
" ... As Phillips would be the first to admit, the focus on these two extremes of Renaissance music left a vast area untouched. In the encore, a beautiful performance of John Sheppard's Libera nos, salva nos, he and the Tallis Scholars gave a glimpse of what treasures lie there. It was the final wonder in a Prom that was full of them."
The Daily Telegraph - Proms 2013: Tallis Scholars, review
I should perhaps confess that several older members of my family struggled to tell their chalk from their cheese, but can you?